[ Download schedule ] (pdf).
F R E E A D M I S S I O N | P U B L I C W E L C O M E
Directed by
Juan Carlos Maneglia & Tana Schémbori , Paraguay, 2014
Synopsis;
It's Friday night in Asunción, Paraguay, and the temperature is sweltering. Víctor, a 17-year-old wheelbarrow delivery boy, dreams of fame and owning a fancy TV set from the infamous Mercado 4. He's offered a chance to deliver seven boxes with unknown contents in exchange for a quick one hundred US dollars. But what sounds like an easy job soon becomes complicated. Something in the boxes is highly coveted and V?ctor and his pursuers quickly find themselves caught up in a crime they know nothing about.
Reminiscent of
Slumdog Millionare
,
7 Boxes
was declared a film of cultural interest by the National Secretary of Culture of Paraguay. (from Pragda Spanish Club site).
Directed by
Mariana Rondón, Venezuela, Peru, Argentina, Germany, 2013
Synopsis;
A nine-year-old boy's preening obsession with straightening his hair elicits a tidal wave of homophobic panic in his hard-working mother, in this tender but clear-eyed coming-of-age tale. Junior is a beautiful boy, with big brown eyes, a delicate frame, and a head of luxurious dark curls. But Junior aches to straighten those curls, to acquire a whole new look befitting his emerging fantasy image of himself as a long-haired singer. As the opportunity approaches to have his photo taken for the new school year, that ache turns into a fiery longing. Junior's mother, Marta (Samantha Castillo), is barely hanging on. The father of her children has died, she recently lost her job as a security guard, and she now struggles to put a few arepas on the table for Junior and his baby brother.
Junior doesn't even know yet what it means to be gay, but the very notion prompts Marta to set out to "correct" Junior's condition before it fully takes hold. This is a story of people doing what they feel they have to, partly out of fear, but also out of love." Diana Vargas, Toronto International Film Festival. (from Pragda Spanish Club site).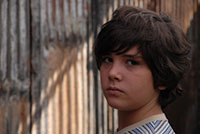 Directed by
Benjamín Ávila, Argentina, Spain, Brazil, 2012
Synopsis;
Benjamín ávila's
Clandestine Childhood
(
Infancia Clandestina
) is an earnestly heartfelt cine-memoir based on the director/co-writer's own tragic early life. Argentina, 1979. After years of exile, 12-year-old Juan and his family come back to Argentina under fake identities. Juan's parents and his uncle Beto are members of the Montoneros Organization, which is fighting against the Military Junta that rules the country. Because of their political activities they are tracked down relentlessly, and the threat of capture, and even death, is constant. However, Juan's daily life is also full of warmth and humor, and he quickly integrates into his new environment. His friends at school and the girl he has a gigantic crush on, Maria, know him as Ernesto-a name he must not forget, since his family's survival is at stake. Juan accepts this and follows all of his parents' rules until one day he is told that they need to move again immediately, and leave his friends and Maria behind without an explanation.
This exceptional first feature not only captures the spirit and passion of the freedom fighters who gave their lives for a cause, but also gives voice to their children, caught in a battle that was not their own yet rising heroically to the challenge. This story about militancy, undercover life, and love is the Argentine submission for the 2013 Best Foreign-Language Academy Award. (from Pragda Spanish Club site).
Directed by
Víctor Aguerrí, Ecuador, 2014
Synopsis;
A political thriller about human rights, '
The Facilitator
&rquo; is one of the most successful films to come out of?Ecuador in the last few years. When Miguel, a successful businessman, learns he is ill, he asks his estranged daughter Elena to come back to Ecuador. She agrees, but maintains a cold and distant relationship with him, opting to spend most of her time with friends using drugs and alcohol. After a close call with the law, Miguel sends her to spend some time with her grandfather at the family's estate.
In this nostalgic house that bring up so many memories and nightmares, Elena meets her childhood friend Galo, who now promotes water access rights for the indigenous community. Elena is compelled by their way of life and gets involved with the political organization of the community.
When her nightmares intensify, Elena starts digging behind the reports of the car accident that supposedly killed her mother. Elena will gradually understand that among family secrets, crimes, corruption, and dark perversions, commitment and beauty can emerge (from Pragda Spanish Club site).


Directed by
Lucía Puenzo, Argentina, France, Spain, 2011
Synopsis;
Writer-director Lucía Puenzo follows up her 2007 award winning film,
XXY
, with this steamy tale of star-crossed love set on both sides of the class divide in South America. Lala (Inés Efron, in a performance called evocative of early Sissy Spacek and Chloé Sevigny) is the privileged teenage daughter of a powerful judge, and she's fallen hard for her family's maid, La Guayi (singer Mariela Vitale, making her feature-film debut). The two women plot to escape Buenos Aires and live together on the remote shores of Paraguay's Lake Ypoá. Before they can carry out their plan, Lala's father is murdered and she runs away from home and heads toward Guayi's village in Paraguay, hoping that her lover will follow. While in Paraguay, she begins to explore Guayi's troubled past. Meanwhile, Guayi is detained in a juvenile detention center in the outskirts of Buenos Aires. She turns out to be hiding a crime from long ago
Beautiful cinematography, a compelling story of love overcoming the odds, and a touch of magical realism make
The Fish Child
an escape from the ordinary. The film features an appearance by the Paraguayan musical group the Potrankos.(from Pragda Spanish Club site).
Directed by
Diego Quemada Díez, México, Guatemala, 2013
Synopsis;
The Golden Dream
tells the story of two teenagers who leave their village. They are joined by Sara-- who initially passes herself off as a boy named Osvaldo -- and Samuel. Along the way the trio pick up a fourth member, Chauk, an
indio
who speaks virtually no Spanish.
Together, they live through a horrible experience, just as the millions of people who venture on a similar journey. Along the way, they become friends and companions confront fear, injustice and pain.
Directed by
Moisés Sepúlveda, Chile, 2013
Synopsis;
Ximena is an illiterate woman in her fifties who has learned to live on her own in order to keep her illiteracy a secret. Jackeline is a young unemployed elementary school teacher who tries to convince Ximena to take reading classes.Persuading her proves to be an almost impossible task, until one day Jackeline finds something Ximena has been keeping as her only treasure since she was a child: a letter Ximena&rquo;s father left when he abandoned her many years before. The two women embark on a learning journey where they discover that there are many ways of being illiterate, and that not knowing how to read is just one of them( taken from the Pragda Spanish Club Site).
Directed by
Gabriel Mora Vega , Colombia, 2011
Synopsis;
Karen has left her slimy but successful husband Mario after ten years of marriage. She needs a fresh start to find out who she is and who she could be, despite her husband's proclamation that she can do absolutely nothing. She walks out into Bogotá with no job, no friends, and hardly any money, but catches a break when she meets a hairdresser named Patricia at a cheap flophouse. With her younger and seemingly stronger friend by her side, Karen takes her first steps towards independence and self-discovery." (from the Film Movement Site).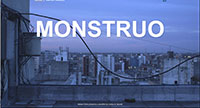 Directed by
Carlos Morrelli, Uruguay, 2013
Synopsis;
It is a film about life and death, which explores the questions of when is life worth living and whether it is possible to love someone so much that death can be the only way out. Touching upon the topics of non-voluntary euthanasia, suicide, and parental love, the flm tells a compelling story without passing judgement, asking diffcult questions and leaving the answers to the audience (From the Néktar Films site).
Directed by
Verónica Pamoukaghlian, Uruguay, 2012
Synopsis;
Raúl is 75 years old. He lives in Montevideo, in a little white house in the neighborhood of Buceo, with his 37 year old wife Susana and his 5 year old daughter Sofía
Both Raúl and Susana work long hours as personal trainers. Raúl also has other occupations such as training a professional rugby team, playing the guitar, and even fixing an old automobile. In his spare time, Raúl trains for the Decathlon. On July 29th, in Finland, he may become champion of the world.
Directed by
Javier Fuentes León, Perú, Colombia, 2010
Synopsis;
In
Undertow
(
Contracorriente
), Javier Fuentes León looks at what it means to be a man in contemporary Peru. The story centers around Miguel, a young and handsome fisherman who lives with his beautiful pregnant wife in Cabo Blanco, a small traditional fishing village in Northern Peru. What nobody knows is that Miguel is also having a passionate affair with Santiago, a painter who is ostracized from the community due to his sexuality and agnostic views. When Santiago drowns accidentally in the ocean's strong undertow, Miguel's scandalous secret forces him to make an important choice that could cause him to lose the people he loves the most.
Undertow
examines the complicated intersection of manhood, masculinity, sexuality and tradition. With its emotionally charged love story, sweeping images of the beautiful Peruvian coastline, and excellent cast, Undertow has received an outpouring of critical acclaim as well as numerous awards (from the Pragda Spanish Club site).
---