Showtimes and Locations
Thursday, October 6, 7:00 p.m. Floyd Theater

Introduction: Prof. Christine Ehrick, Department of History
Saturday October 29, 7:00 p.m. Muhammad Ali Center


Title:
A Moonless Night/Una noche sin luna
Director(s):
German Tejeira
Country:
Uruguay/Argentina
Year:
2015
Language:
Spanish with English Subtitles
Genre:
Drama
Type:
Full length feature film
Length:
81 minutes.
Format:
Digital
Rating*:
NR.
*Rating System: Latin American films use a different rating system. However, we have used the following rating system to evaluafte these films.
V includes violence | L includes strong language | N includes nudity | S includes sex


Pragda's info on the film:
https://pragda.com/film/a-moonless-night/https://pragda.com/film/a-moonless-night/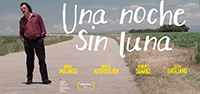 Presented as part of The Spanish Film Club series with the support Pragda, and the Embassy of Spain in Washington DC, Spain-USA Foundation. Special thanks to the Secretary of State for Culture of Spain.
Storyline
URUGUAY'S OFFICIAL ENTRY TO THE ACADEMY AWARDS® – BEST FOREIGN LANGUAGE FILM
Up-and-coming Uruguayan director Germán Tejeira creates a moving, poignant, witty character study in his first feature film.
On New Year's Eve, three lonely characters travel to a small town in the Uruguayan countryside. Cesar, a divorced man, arrives at the town, where he will have dinner with his ex-wife's new family in an attempt to win back his daughter's love. Antonio, a small-time magician, is trying to get to the town to perform his routine at the community center, but his car breaks down. Stranded in the middle of the deserted road, he meets Laura, a woman working at the toll station. Miguel, a performer, prepares to sing at the community center's New Year's Eve party. By following their paths to the town, the characters have a chance to change their destinies.
Synopsis from From Pragda, Spanish Film Club promotional site.
---