Showtimes and Locations
Thursday, October 27, 7:00 p.m. Floyd Theater

Introduction: Prof. Greg Hutcheson, Department of Classical and Modern Languages
Tuesday November 1, 7:00 p.m. 104W Ekstrom Library


Introduction: Prof. Madeline Clabough, Ali Scholar


Title:
Atempa, Dreams by the River/Atempa, Sueños a la orilla del río
Director(s):
Edson J. Caballero Trujillo
Country:
México
Year:
2013
Language:
Zapoteco and Spanish w/ English subtitles
Genre:
Documentary
Type:
Short film
Length:
85 minutes.
Format:
Digital
Pragda's info on the film:
https://pragda.com/film/atempa/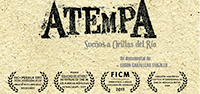 Presented in collaboration with the LBGT Program as part of Pride Week.
Presented in collaboration with the LBGT Program as part of Pride Week and the University Libraries.
Storyline
Tino dreams of becoming a "Muxe Queen". Though born into a male body, as Tino enters adolescence, she begins to dress as a woman and embrace her femininity, all while struggling to resolve a difficult childhood and overcome poverty. Tino considers herself neither male nor female, but rather a "muxe", a third gender that has been integrated into Zapotec culture. A documentary that films for the first time a muxe child in its growth stage.
This film is a portrait of San Blas Atempa, a town that heroically defended itself against the French invasion of Mexico. The region is known for the strength of its women, and this "magical town", lost in the wild heel of Mexico, seeks a free and diverse society dominated by femininity.
An intimate journey into the heart of the Isthmus of Tehuantepec, Atempa, Dreams by the River raises important questions about the conflation of gender and sexual orientation and the influence of culture on gender identity. The film would make a vital contribution to courses in Latin American Studies, Gender Studies, Women's Studies, Cultural Studies, Anthropology and more.
Atempa has been supported by National Foundation for Arts and Culture.
Synopsis from From Pragda, Spanish Film Club promotional site.
Sinopsis
Tino desea lograr su sueño: ser "Reina Muxe". Siendo niño homosexual asume el rol de niña para desarrollar su feminidad adolescente, busca solucionar su pasado y su economía pese a las carencias sociales. Esta película es un retrato de San Blas Atempa, pueblo heroico en la defensa de la invasión francesa a México; a partir de las historias de tres de sus habitantes de la vida actual, un viaje íntimo a las entrañas del Istmo de Tehuantepec, Oaxaca, en el cual existe la identidad de la dualidad sexo-genérica, que no es hombre ni mujer, es "Muxe"(homosexual zapoteco); culturalmente desempeña roles femeninos, sociales y sexuales. Región que también es conocida por la fortaleza de sus mujeres dentro de un pueblo mágico, perdido en el talón salvaje de México, donde predomina el dinamismo del pueblo y se busca una sociedad libre y diversa, en la que impera la feminidad, señoras valientes y hombres vestidos de mujer.
---